There are a number of ways we monitor trail use; some of these are informal and rely on club members reporting on who they talked to while out riding.
However, there are a couple of more formal methods used:
The NPDC has an infra-red counter at Mangamahoe.  The NPDC pass the traffic information to us.  Some of the data from this counter will graphed when the data becomes reliable and shown on this page in the future.  The counter has been having some issues.
We have installed four MTB counters that work using a magnetometer on a number of the trails (they do pick up carbon bikes!) at Mangamahoe.  We are using these TRAFx trail counters operating in Bike mode.  The trails that were part of the first period of monitoring were: Kiwi Kids, Mandatory Power Play, Lawsons Loop – GDO Link and Kahore Tau.  Subsequently the counter from the Kiwi Kids track has been moved to the new Highway to Hell trail, so data from that trail's use is now included.
At the beginning of February the counter on Lawson's Loop-GDO Link was moved to the Lap It Up track and the Mandatory Power Play counter was moved up to be nearer the entrance to this trail to make it safer to retrieve the data.
The counters were left from early August to early November without any data being downloaded.  So we have 3 months of winter riding data to analyse.
Some of the results provided from the weeks of data collected from the TRAFx counters are shown here (last updated 13th November 2018):
What does a daily count look like for a year November 2017 to October 2018?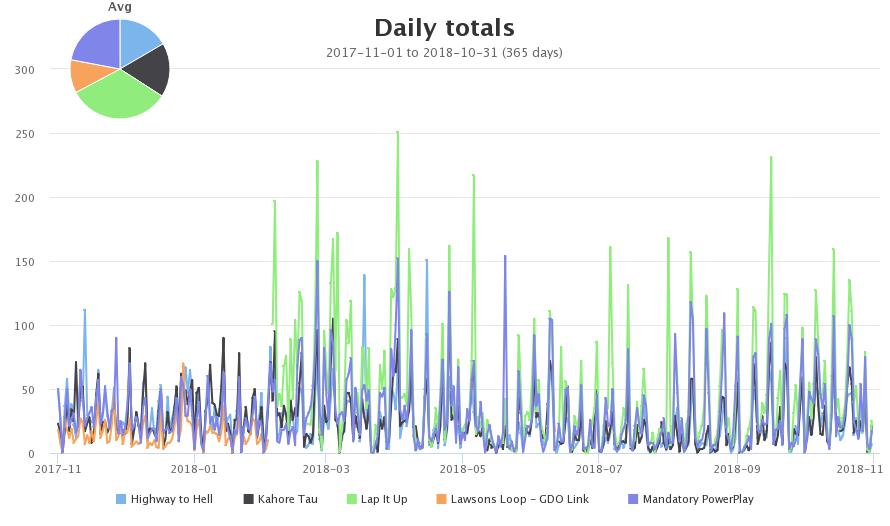 A regular weekly cycle shows up that corresponds to the high weekend use of the park.  Lap It Up since the counter has been there in early February is showing the way with a peak of 251/day on 2nd April (Easter Monday) and another of 231/day on Saturday 16th September.
There were 2 days in this period where there were no bikes recorded over a 24 hour period on any of the counters: 3rd November 2017 and 1st October 2018.  The peak count per day summing all counters was 562 also on Easter Monday, 2nd April 2018.
The minimum, maximum and averages per day over the 365 days shown above are:
| | | | | | |
| --- | --- | --- | --- | --- | --- |
| | Highway to Hell | Kahore Tau | Lap It Up | GDO Link | Mandatory PowerPlay |
| Minimum | 0 | 0 | 0 | 0 | 0 |
| Maximum | 151 | 122 | 251 | 70 | 154 |
| Average | 24 | 25 | 47 | 15 | 31 |
We can get monthly averages.  The trend on the trails is generally upwards since June 2017 with the Ara Hoki and Cash Flow trails attracting more riders to the northern end of the park.  We got these figures for 2017 (riders/month):
These are the figures so far for 2018:
There is a trend upwards, over 500 riders/month on average/month greater than for 2017.
Since February, which is the most heavily ridden trail?
Apart from a couple of weeks, Lap It Up is getting the most ridden each week.  Mandatory Power Play is next, Kahore Tau and then Highway To Hell.  This shows that as riders we are heading out to the top end of the park.
What are the trends for last and this year:
With more data, Lap It Up's daily count has remained somewhat steady as winter progressed.  Highway To Hell's totals have dropped since 2017 from almost 25 bikes/day to 21 wheres both Kahore Tau and Mandatory PowerPlay have gone up since 2017.  There seems to be over well over 10,000 bikes in our park over any 12 month period.